Holiday Gift Ideas
Can you believe it's already mid-November? I know Christmas and Hanukkah are over a month away, but it's better to start shopping for your friends and family now, rather than later! These ideas are mostly available online, but there are alternative options in most stores. The prices range, but everything can be offered at more affordable or luxurious prices with a little internet searching.
Clothing and Accessories:
Lately, simple jewelry
has been very popular. In a time where fast fashion is starting to fade, these gold earrings are a great staple for any closet. If you want a timeless, nice gift, I suggest buying more expensive earrings such as thee ones on the right, from Macy's. This is great for shopping for a mom, mother-in-law, sister, or sister-in-law. For those on more of a budget, I love how inexpensive the left earrings are priced. They are great for someone who have multiple piercings so they can wear them all at once or switch out the sizes. I bought these after losing my gold pair and have loved wearing them. I even added a bee charm to one of the smaller sizes.
In the season of giving,
Love Your Melon
is a great way to get something in exchange for helping others. A LYM headband beanie for your runner friend is a great idea for the cold weather. In track, we would love to wear these headbands to keep warm, but also wear our hair up. If running isn't you or your friends thing, it is also great for hair down styles so nothing gets too "hat hair" looking. There are a ton of styles for headbands and beanies a like, so something is bound to match the style of the person you're shopping for.
These mittens are also a great LYM gift. They are on the pricier side, but the all black look is so cute for the winter. If you know someone has travel plans to cold places, you could write in the card "Mittens, so your hands don't get cold spending Christmas in New York" or something cute like that. I am all about tying in practical gifts with sentimental meanings.
People of Leisure
is a sustainable brand who makes everything in LA. This past year, I won a gift card from them by entering an Instagram contest, and I got a few things from there for the first time. I am obsessed with the sweatshirt I got from there, and wore it all over Ireland and Europe. This gift is great for someone who takes comfort seriously. Whether it's on a long flight or a movie night in, this set is perfect for lasting comfy clothes.Their prices are a little higher, but they are well made. I love supporting smaller brands that provide good quality. If the person you're shopping for is into
graphic tee's
, I suggest looking at
Life Clothing Co
. They offer unique designs at great prices, and they are also a smaller brand!
This necklace is one of my favorite gifts. I gave my mom one that said, "MAMA" for her birthday! This would be great for a new mom, or you can put someones name on it.
I love dainty necklaces
, so naturally I like to give them. The necklace wasn't too gold and is really cute paired with other dainty necklaces. It's offered in different lengths as well as gold, rose gold, and silver. Etsy has a ton of options when it comes to handmade jewelry or other gifts. This is my go-to when it comes to giving very personalized or sentimental gifts.


Tech gifts
This summer, I bought myself
a nice pair of headphones
and my dad saw them and immediately wanted them. They are noise cancelling, have a bass effect (not sure he'll be using that, but I love it), and are an affordable nice gift. He travels a lot, so this would be great for long plane trips. I tested them out, and they really do cancel a ton of noise!














Although I use the left headphones to workout in, they aren't the best when it comes to staying in the same place during ab exercises. These headphones are a great alternative to the clunky ones because they go in your ears and will stay put. Another option if these aren't what you're wanting is going with AirPods!
Housewarming gifts:
Everyone loves a good
letter board
. This is a safe gift because it's essentially pure customization. This one comes in a ton of colors and sizes, so there's an option for all styles.
You can find these pretty much anywhere that sells home products like Home Goods, TJ Maxx, Urban Outfitters, Kirklands, or Amazon!
I love Chrissy Teigan. When her
Cravings Hungry For More cookbook
came out, I was so excited to get it for a gift last Christmas. I've tried a good bit of her recipes, and they are delish! This gift is great for someone who just moved into a place of their own because coming up with meals can be hard.
You can find her cookbook anywhere that sells books. Some TJ Maxx's even have it, too. It would be cute to get this cookbook with a serving platter from Chrissy's "Cravings" collection from Target.
A gift we got for my mom last Christmas was a

picture of our old house

. We moved after living in the same house for over 20 years, so it was a sentimental gift for her! I couldn't find the exact shop we bought from, but there are a ton on Etsy.
The price range for these paintings vary from low $20's to mid $100's. It just depends on what exactly you want and the ratings of each shop. If you go to Etsy and want to explore your options, just type "Home Paintings" or "Home Drawings," and it will come up.
Other: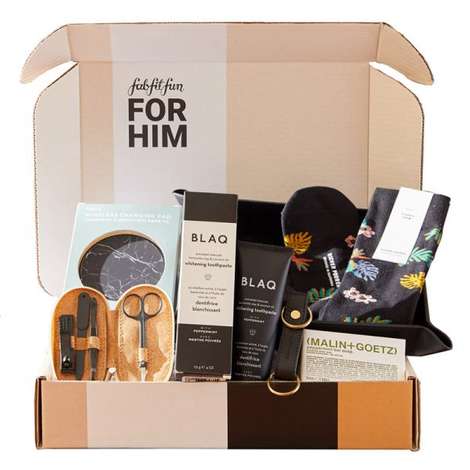 If you subscribe to FabFitFun, there is an option to add on products to your box. If you are shopping for a S/O, brother, or dad, there are a
FFF boxes "For Him."
They're $49.99 and come with a lot of cool products like a wallet, pre-shave oil, soap, socks, etc. This is a great way to give someone life essentials, but in a practical and exciting way.
I'm thinking about buying this and dispersing it as stocking stuffers for the three men (BF, Dad, Brother) in my life. This way, I don't have to make multiple trips, and it all comes in at once.
Most make up stores offer "Mini Kits" or "Value Sets"
during the holidays. This is a great way to buy nicer products for less money. I put pictures of examples both Sephora and Ulta had on their websites, but linked their "gifts" pages! Personally, I'm more of an Ulta girl because they offer more coupons and you can try to use it on the sets to make it even more affordable!